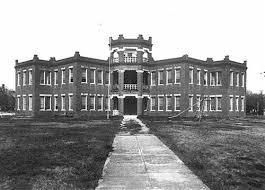 Texas Historical Foundation board member Judy Davis will host a presentation of the group's Winter 2023 grant to the Bartlett Activities Center. This is BAC's third grant from the Foundation in as many years in support of ongoing restoration efforts at the Bartlett School building, now home to Bartlett Activities Center.

Completed in 1909, the school was designed by prolific Texas architect A.O. Watson to accommodate a growing population drawn to Bartlett's prosperous cotton business and an expanding rail presence. Originally a high school, the burgeoning population quickly required additional space for students. By 1917, a larger high school was erected nearby, and the building was converted for use as a grammar school until its closure in 1988.

Shortly after ceasing operations as a school, the building was in danger of demolition by the city. A group of concerned citizens rallied to combat proposed plans and preserve the beloved Bartlett landmark. The group prevailed in saving the school, and in 1991 an agreement was reached with the school district allowing the newly formed Bartlett Activities Center to enter into a 99-year lease of the property. Ever since, the Activities Center has continuously operated as a community space and museum dedicated to local history.

The grant presentation will take place on-site at Bartlett Activities Center (300 West Bell St., Bartlett) the afternoon of Saturday, April 22, with Texas Historical Foundation board members presenting to Florence Jemes on behalf of Bartlett Activities Center staff and volunteers. To learn more about Bartlett Activities Center programs and the history of the building, visit bartlettactivitiescenter.org.