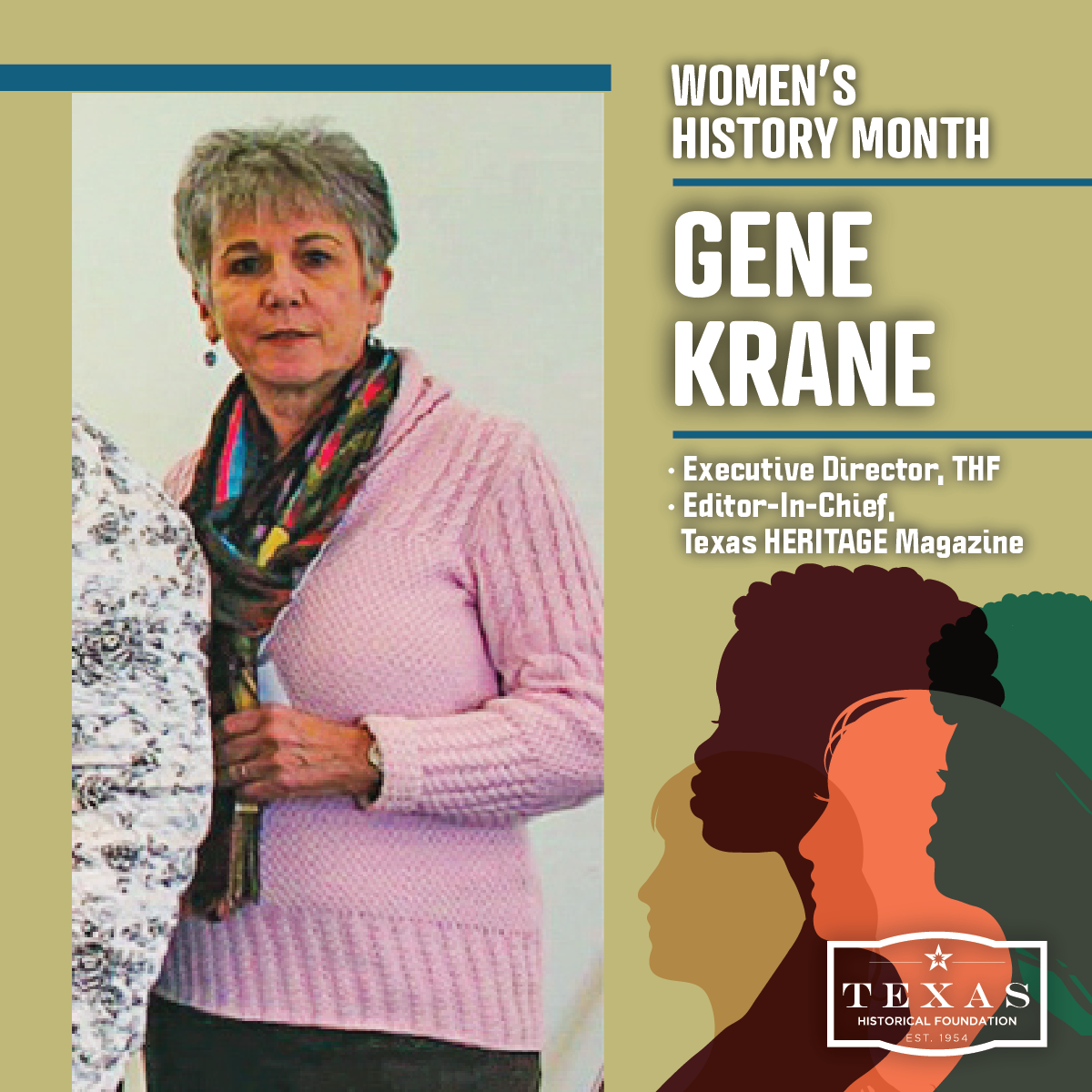 Historic preservation wasn't the career path Gene Krane set out to pursue. 
Editing the Texas Historical Foundation's award-winning Texas HERITAGE Magazine was meant to be temporary. Krane never expected it would become her professional home for more than a decade. 
"I came in through the back door," she said.  "It was an opportunity for me to learn something new. I didn't know I was going to have an interest in history and preservation." 
Krane became Executive Director of the Texas Historical Foundation 13 years ago. She also is editor in chief of Texas HERITAGE, juggling the demands on nonprofit work and magazine publishing. 
It really has turned out to be the place where I made my career," she said. "I wasn't a preservationist- still don't consider myself a preservationist. There are people who are experts in the field. I just learn from those people." 
Like her, she expects others rarely think about historical preservation as a viable career option. Learning what she has over the years, she hopes they'll change their minds. 
"It's important to know your history," she said. "And besides that, there are great stories too that go with history."
She's hopeful to find new ways to get young people interested in historic preservation. "I think that's a real challenge not only for the Texas Historical Foundation, but for history in general." 
And it's not just Texas history she hopes young people will flock to, but whatever history is theirs. 
Krane said she feels lucky to have become a part of the Texas Historical Foundation so early in her career.  and how much more aware she is now about the work she does."I had many people who I was able to make contact with, who I think kinda held my hand. They were so willing to share their information," she said.  
And now, Krane too has learned a wealth of information she hopes to share with historians of the future. 
Women, she said, have had an outsized impact on the Lone Star State. She encourages aspiring preservationists and historians to research the female pioneers in preservation including Faith P. Bybee, Mary Moody Northen and Ima Hogg. " They got themselves involved in the collective movement, and they were really important people," she said. "We're all standing on their shoulders right now." 
To carve out a future for themselves in preservation, Krane recommends people start in their backyards. For a lot of people that have remained in their hometown, that's their personal history," she said. "And I know for a fact that all these organizations- especially the smaller ones -in the small communities. They all have a need for assistance."
All you have to do, she says, is raise your hand and say, "I wanna be a part of this!"