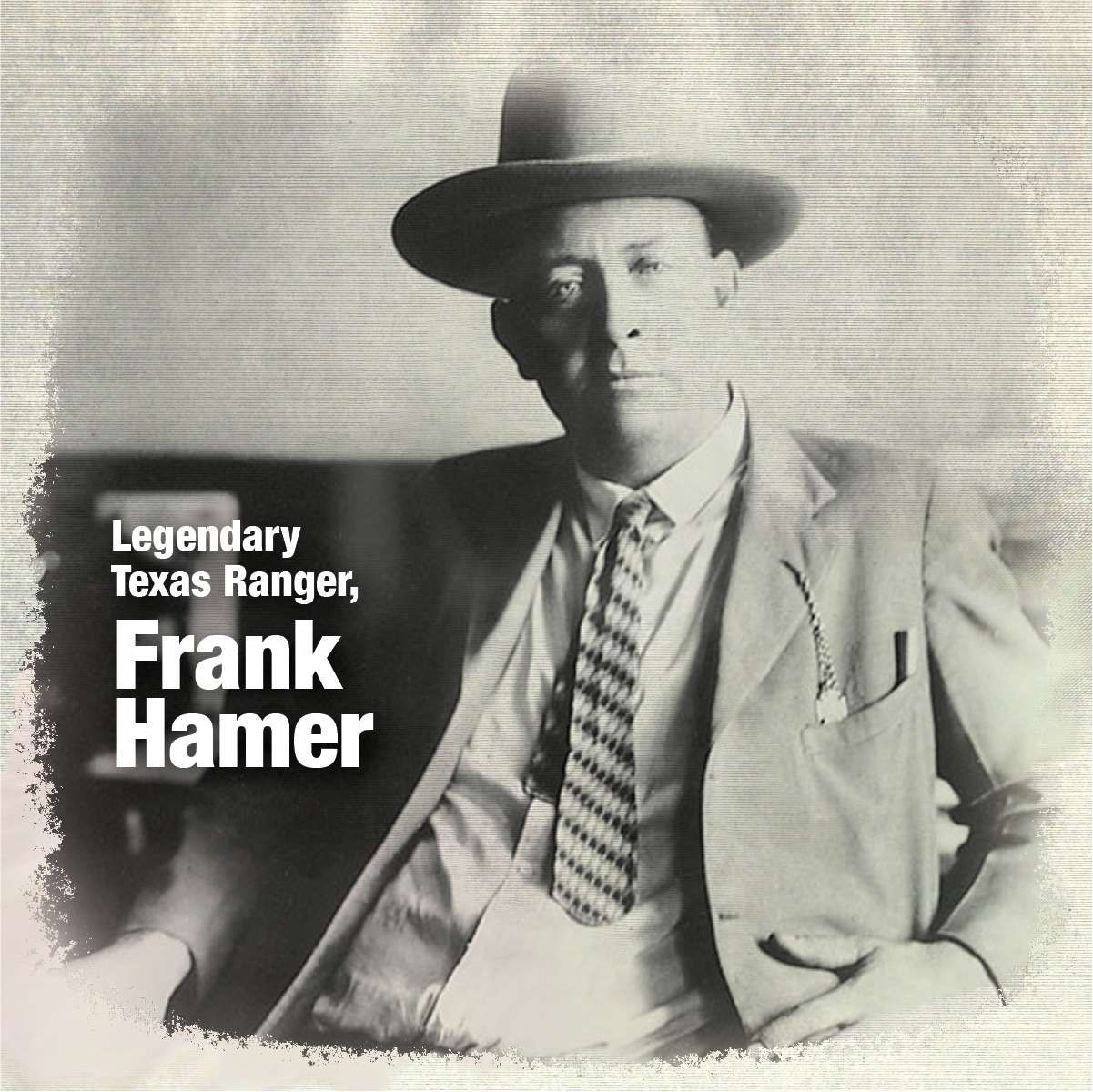 by Colton Gutermuth
Former Texas Ranger Frank Hamer is famous for bringing Bonnie and Clyde, the notorious outlaws, to justice.  This may have been Hamer's most famous act, but his life was full of many other feats and accomplishments. Besides having a reputation for being deadly in a gunfight, Hamer was well known for his courage, toughness, marksmanship, and investigative skills. It is said that he was wounded 17 times and left for dead four times, but he seemed to survive.
Hamer killed his first man in 1900 when he was only 16 in an act of revenge. He and his little brother Harrison were working for rancher Dan McSwain, who approached Frank Hamer with an offer to kill a man for hire. but Frank refused, knowing it was wrong. Afraid he would go to the authorities, McSwain fired a shotgun into Frank's back, wounding but not killing him. After recuperating, Hamer went back to the farm, confronting and taking the life of McSwain.
After that, the Frank Hamer legend took root.  He was one part Texas ranch hand, and one part Texas gunslinger.
Hamer's origins were fairly ordinary. He was born March 17, 1884, in Fairview, south of San Antonio, to a father who was a blacksmith. Frank and his five brothers grew up on a ranch, and four of the boys grew up to became Texas Rangers. As a young man, Frank had worked in his father's shop and as a calf wrangler. He was very interested in history and studied Texas Rangers and native Indian tribes. Hamer attended school in Oxford, between Marble Falls and Mason—and made jokes claiming to be the only "Oxford-educated Ranger" in the service—though he quit school in the sixth grade. Even so, he demonstrated high levels of intelligence and photographic memory.
Hamer began to pursue his law enforcement career in 1905 when he tracked down and caught a horse thief, opening a door for his future endeavors. The local sheriff was impressed by Hamer's skills and recommended him for the Texas Rangers.
The state's open range became like another home to Hamer, who was a keen observer of nature and people. These were some of the attributes that arguably made Frank one of the best Rangers that Texas has ever seen. He joined Captain John H. Rogers' Company C in Alpine, Texas, on April 21, 1906, and began patrolling the Mexican border.
Two years later, at the age of 24, he resigned to become the city marshal in Navasota, an oil boomtown 70 miles from Houston, that had been overrun with violence and crime. Shootouts on the main street were so frequent at that time, in fact, that during the course of two years, at least a hundred people were killed. Lawmen did not typically last long there because they were either intimidated or bought off. Hamer, however, cleaned house and tamed the town.
In 1911, he went to nearby Houston for work in the Harris County sheriff's office. A subsequent move took him to Kimble County where he served as a livestock theft investigator. Hamer then rejoined the Rangers in 1915 and was assigned to patrol the South Texas border around Brownsville. After some time on the Rio Grande, though, Frank once again resigned from the law enforcement group to pick up a job as a range detective for the Texas and Southwestern Cattle Raisers Association.
At the age of 33, Hamer married a widow, Gladys Sims, who stood accused but never convicted of killing her late husband. Still, her past haunted the couple. On a family trip, the Hamers stopped in Sweetwater to buy gas, when they were ambushed by Gus McMeans, a former Texas Ranger and a relative of the slain ex-husband. Frank was wounded, but he shot McMeans through the heart.
Hamer eventually recovered and became a federal agent before once again taking up the Cinco peso and rejoining the Texas Rangers, entering the fray against the Ku Klux Klan. In 1930, he and a handful of Rangers were charged with protecting the trial of a black rape suspect, George Hughes, in Sherman. When a lynch mob headed for the courthouse, Hamer shot and wounded two rowdies, precipitating what became known as The Sherman Riot. Hamer's gunplay enraged the mob, and they burned the courthouse and used dynamite to blow open the cell where Hughes was held. Hamer and the other lawmen escaped in a car, leaving the suspect at the mercy of the mob.
Hamer finally hung up his spurs two years later, retiring in 1932 when Governor Miriam "Ma" Ferguson moved to abolish the Rangers. Hamer retained the title of a senior ranger captain, but his retirement was short-lived.
Two years later, the state prison system hired the lawman to hunt down and bring Bonnie Parker and Clyde Barrow to justice—by any means necessary. Hamer joined forces with retired Ranger, Maney Gault, and the two tracked the criminal couple for the next hundred days. But there were obstacles. To many, Bonnie and Clyde were small-town heroes who stole money from the rich and gave it to the poor, so few would cooperate with the authorities.
The bandit pair were also homicidal maniacs who had been on a murderous two-year crime spree. Hamer studied the movements of the gang and found a certain pattern they seemed to follow, surmising that the outlaws moved in a circle around Dallas; Joplin, Missouri; and northwest Louisiana, making a point to stay close to state lines. Frank knew that Clyde was not going to be taken alive and understood what actions would be necessary to stop the pair. At 9:15 a.m. on May 23, 1934, Hamer and his posse ambushed the couple's vehicle, instantly killing the duo inside.
The deaths of Bonnie and Clyde brought Hamer attention that he shied away from. In fact, the lawman didn't even attend the Hamer-Gault Hero Day in Austin and refused any interviews about the Bonnie and Clyde investigation.
In his later year, the famous Ranger became a professional company strike-breaker. In 1953, Hamer suffered a stroke, and passed away two years later in his sleep, thus ending the story of a latter-day Texas gunslinger and lawman.