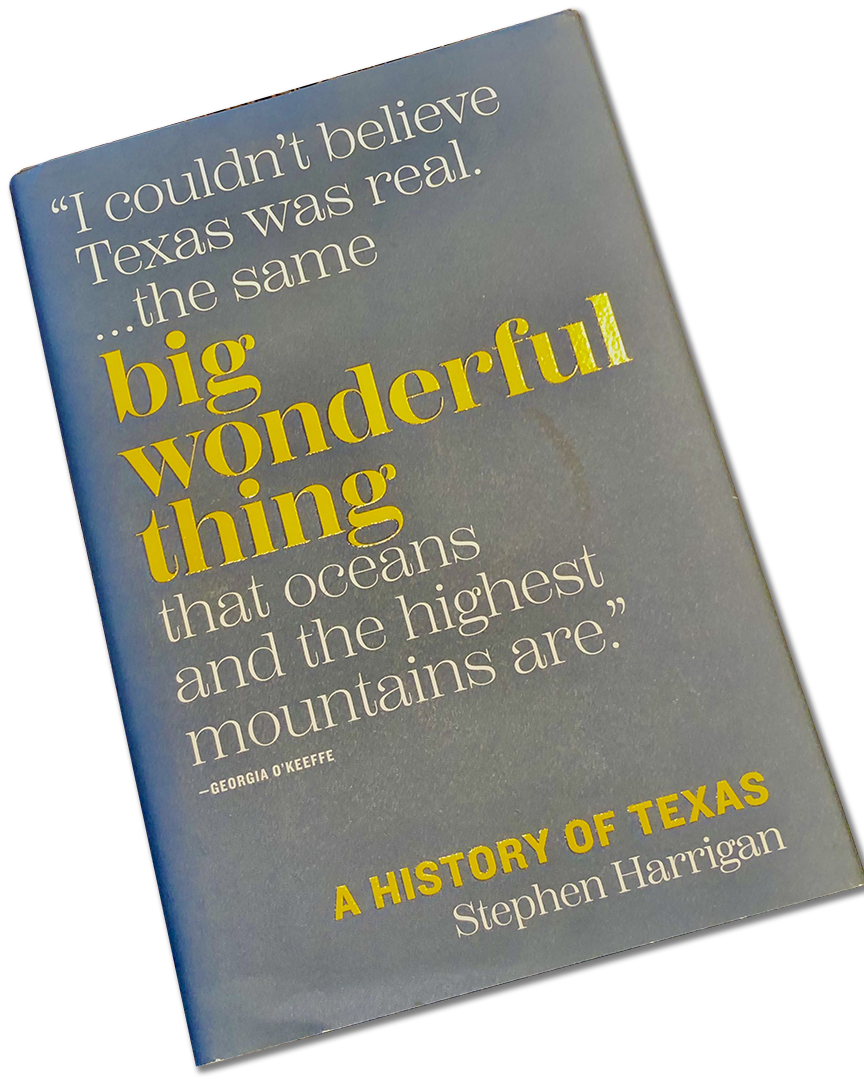 "The grand and glorious four-pound, 925-page, book on Texas history YOU WON'T PUT DOWN!"
In the fall of 2019, I accidentally bumped into an old acquaintance at a San Antonio market. Stephen Harrigan, author of THE GATES OF THE ALAMO and REMEMBER BEN CLAYTON, among others, was in town to promote his latest book, BIG WONDERFUL THING. His book signing venue was none other than The Alamo itself. I couldn't help but inquire how he'd managed to secure what is undoubtedly the most venerated and exclusive backdrop for a P.R. launch anywhere in Texas. With his customary modesty, Stephen shrugged and ventured the powers that be at the Alamo must have liked his new book. 
"Must have," indeed. After many months, I'm still diving almost daily into Harrigan's profound and profoundly engrossing epic masterwork.  Like a bowl of chilled grapes sitting next to you on a hot summer afternoon, the irresistible urge to methodically consume each delectable morsel is sheer anticipatory bliss. Harrigan has made Texas history not only accessible but juicy, fascinating, and about as fun to read as any book the size of your grandmother's toaster could possibly be. It's literally a gigantic, thrilling achievement. 
The title comes from painter Georgia O'Keefe's letter home when she first arrived in Canyon, (in the Texas Panhandle) to teach art in 1912, "I couldn't believe Texas was real … the same BIG WONDERFUL THING that oceans and the highest mountains are." Revealing virtually every facet of historical record, probable theory, and bald-faced yarn pertaining to the Lone Star State, Harrigan covers it all—from Cabeza de Vaca to Selena, cowboys to astronauts, petroglyphs to politics, it's all (practically ALL) in there.
And there are so many interesting, multifaceted Texans! Let's start with the story of Lieutenant Henry Flipper, the first black man to graduate from West Point in 1877. He became the first nonwhite officer to lead buffalo (black) soldiers of the 10th Cavalry stationed at Fort. Davis in West Texas. Arrested for embezzlement of commissary funds, he was eventually declared innocent of the charges but drummed out of the service for "conduct unbecoming an officer and a gentleman." Fluent in Spanish and undeterred, he carved out a successful career as a surveyor and mining engineer in Mexico. In 1999, President Bill Clinton issued a full retroactive pardon for Lieutenant Flipper, undoubtedly referencing the prior remarks of Flipper's earlier military judge, "there is no case on record in which an officer was treated with such personal harshness and indignity." A bust of Flipper now stands on the grounds of West Point.  
Then there's the story of Katherine Stinson, for which Stinson Airfield in San Antonio gets its name. She was the fourth woman in America to be issued a pilot's license in 1912. In addition to her growing notoriety and fan photos of her refueling planes with Wilbur Wright and other ace pilots, she was called "America's sweetheart of the airways as surely as Mary Pickford was America's sweetheart of the silent screen." She volunteered to become a pilot for the military in World War I but was denied, instead becoming an ambulance driver in England and France. Among her many aviation achievements, she set the long-distance flying record at the time, piloting solo from San Diego to San Francisco.
Tragedy and horror aren't spared either.  The New London school explosion, the worst school disaster in America that literally rocked this small East Texas town in 1937, gets a somber, vivid recapping. Odorless natural gas collected from a pipe coupling underneath the school building and was detonated when a spark flew from the shop teacher's electric sander. Three hundred children died, and an equal number were seriously injured. "You couldn't look anywhere without seeing a pile of dead boys and girls. The shredded bodies of children rained down on passing cars. They hung from telephone wires.  I gathered two tubs full of hands, arms, legs and feet for which I could find no bodies," an ambulance driver recalled. A week after the calamity, a child survivor testified at the State Capitol about the horrors of odorless gas, and legislation was passed to add the putrid-smelling chemical compound mercaptan to warn of future gas leaks.
The unfolding of the 1840 San Antonio Council House Massacre is terrifying in its cruelty and violence. Sixty-five Comanches—warriors, women, and children—entered San Antonio with the prospect of securing a peace deal with the local citizenry. Meeting in the Council House on Main Plaza, things quickly went wrong. The chief was informed that all white settler captives would have to be returned straight away and that he and his entourage would be imprisoned until that had occurred. Immediately, all hell broke loose.  Within minutes all the Indians in the room were either stabbed or shot dead. "The Indians in the yard outside, who moments before had been peacefully demonstrating their skill with their bows and arrows, turned their weapons on the Texas troops or ran for safety through the streets of San Antonio.  The fleeing warriors were hunted from house to house or shot down as they tried to cross the river. They all died. A Russian Doctor and naturalist named Weideman took part in the fight, chasing the fleeing Indians on his horse through the streets of the city. Late that afternoon, while Mary Maverick was visiting a neighbor, Dr. Weideman showed up with two Comanche heads, a male and a female. 'I have been long exceedingly anxious to secure such specimens,' he told the ladies. He took the heads, as well as the bodies, and put them in a soap boiler so that he could render them down and study their bodies. The boiler discharged into an acequia, which supplied the town's drinking water.  When horrified citizens saw what he had done, they had the Doctor arrested. 'He took it quite calmly,' Maverick reported. He assured everyone that the water was safe to drink and that the 'Indian poison' had long since run off.  He 'paid his fine and went off laughing.'"
Harrigan's asides are nothing if not revealing via his frequently wry, matter-of-fact delivery. "Oil was never 'discovered' in Texas; it was just always there.  It was the 'scum' that surviving members of the De Soto and Moscoso (conquistador) expeditions had found seeping up out of the Texas surf in 1543 and then used to seal the gaps in their leaky handmade rafts while they were tortured by clouds of mosquitoes." Others are inspiring, such as, "Jovita Idar joined her family's newspaper, La Cronica (early 1900's) … and reported from all over the Rio Grande Valley, covering the lynchings, land thefts and other crimes against Tejanos that were likely to go unremarked in Anglo publications. She became the first President of La Liga Feminil Mexicanista (League of Mexican Women). In 1913, she made enemies when she published an editorial in the newspaper El Progreso denouncing President Wilson's intervention in Mexico. The Texas Rangers were sent to close down the paper, but when they got there and encountered Jovita Idar standing in the doorway with her arms crossed, refusing to budge and refusing to let them in, they decided they'd better come back another day."
Of course, all the familiar Texas names are in BIG WONDERFUL THING as well— Lyndon Johnson, the Bushes, Davy Crockett, Sam Houston, Audie Murphy, José Antonio Navarro, on and on. And each is given their moment of reflected glory, or in some cases, a healthy measure of deflating reexamination.  Harrigan isn't afraid to burst a few bubbles along the way. Writing of Depression-era Texas Governor Coke Stevenson, he noted that during national wartime gas rationing, Stevenson was against it as he considered gasoline to be 'kin to those other sacred tools of the frontier—the saddle, the rifle, the ax and the Bible—what made Texas what it was.'
Other quotes are gems of Harrigan's own insights.  In citing a sportswriter praising legendary U.T. football coach Darryl Royal, "He owns one of the most brilliant masses of football cerebellum we've ever seen caged in one skull!"  In defining Mary Kay Ash, founder of Mary Kay Cosmetics, she discloses the following sage advice, "From 14 to 40, a woman needs good looks, from 40 to 60 she needs personality, and I'm here to tell you after 60, she needs cash." On Bunker Hunt of the Dallas Hunt family, "Bunker had his extravagances – 500 racehorses, a $50 million collection of ancient coins – but he 'is the kind of guy who orders chicken fried steak and Jell-O, spills some on his tie, then goes out and buys all the silver in the world.'" And finally, Barbara Jordan, "She had it in the cradle," her debate coach at Texas Southern University, Tom Freeman, said of her voice.  "It's spectacular orotundity -- every syllable building and rolling like an ocean wave – was so rich, so perfect that it was almost a parody of what an orator was supposed to sound like."  Also this, "I thought I was listening to God," reported a woman who heard Barbara Jordan speak in public for the first time."
To bring forth the long-dead past and make it both germane and rewarding, is the gift of a serious authority. And that authority is unquestionably Stephen Harrigan.  If you have even a molecule or two of "history nerd" lurking somewhere deep inside, you won't be able to put down this thoroughly absorbing testament to Texas glory, Texas infamy, and most assuredly, Texas quirkiness.
(Personal note: There's even a mention on page 292 of my ancestral uncle, Confederate Brigadier General Henry Hopkins Sibley, who led a failed attempt to conquer the American Southwest for the Confederacy during the Civil War.  As an example of Harrigan's disarming perspective, I learned something about my forbearer I'd never known. "Sibley, a much-decorated veteran of the Mexican-American War … had once gone snow-blind while trying to climb Mount Popocatépetl outside Mexico City." It's these seemingly extraneous annotations, that at first glance appear disparate, but consistently deliver the goods when illuminating an essential essence.)