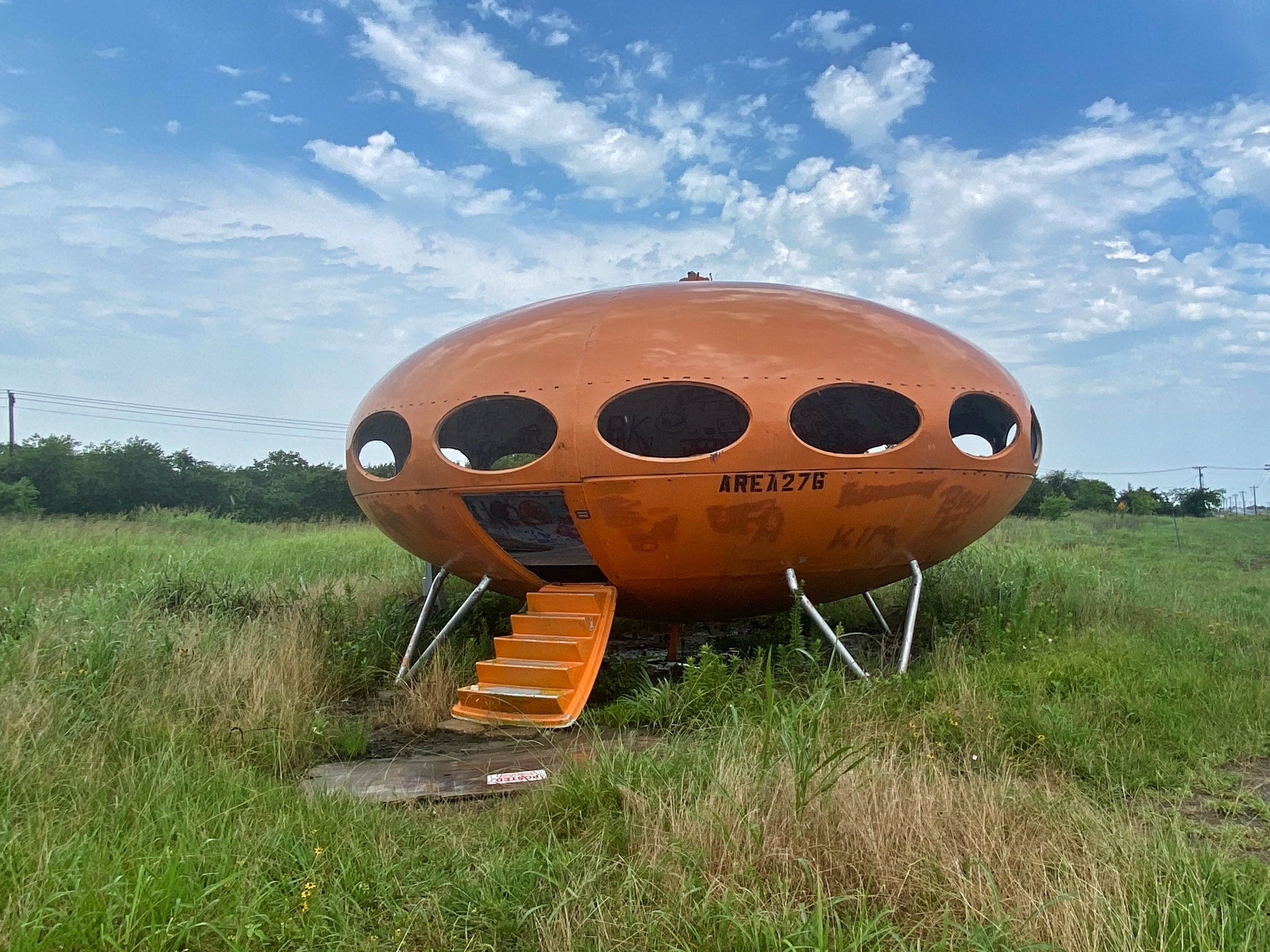 The landscape in the small town of Royse City in Rockwall County looks like most other rural communities in Texas with its acres of fields, farmland, cows, warehouses, two-lane highways and country roads slicing through it all. That was certainly the case when my family moved to this area in the early 1990s, long before the current building boom, so you can imagine my surprise the first time I spotted a deteriorating, seemingly forgotten spaceship on an overgrown lot along Highway 276. Many have passed by without knowing the story behind the out-of-this-world structure, or its significance to a very specific point in history.
I eventually learned that the spaceship is called a Futuro House and that it was designed by Finnish architect Matti Suuronen during the 1960s. The futuristic design echoed the world's fascination with the burgeoning space exploration and great space race that many countries were engaging in at the time. The prefabricated design provided an affordable and modern vacation home that could be easily moved and placed into any environment. The interior was complete with a kitchen, bathroom, living room, dining area, beds, a central fireplace, and porthole windows for viewing the outdoor surroundings. Sadly, the oil crisis of the 1970s put an end to the production of Futuro Houses, as the plastic used in the design became too expensive to manufacture.
The Royse City Futuro House was one of only approximately 100 made, and now one of only about 60 remaining in the world. It was originally purchased by an unknown buyer in Garland before being moved to Royse City by two brothers who used it as a business and bachelor pad before it was sold again and abandoned.
Remaining Futuro Houses are in various states of repair today. Some have been fully refurbished and used as homes, some are businesses, and some are uninhabitable. Unfortunately, the Royse City Futuro falls into the latter category as it was gutted long ago and is a frequent victim of vandalism. A fresh coat of exterior paint was applied a few years ago along with the new moniker "Area 276," a tongue-in-cheek reference to the highway where it sits and Area 51, the Nevada military base long associated with UFOs and aliens.
Despite its current state of disrepair, "the spaceship," as longtime residents of Rockwall County call it, is a beloved landmark in their town, and it is definitely worth a visit to see such a rare oddity in north Texas.
You can find out more at TheFuturoHouse.com, where you will also find an inventory and gallery of remaining Futuros.