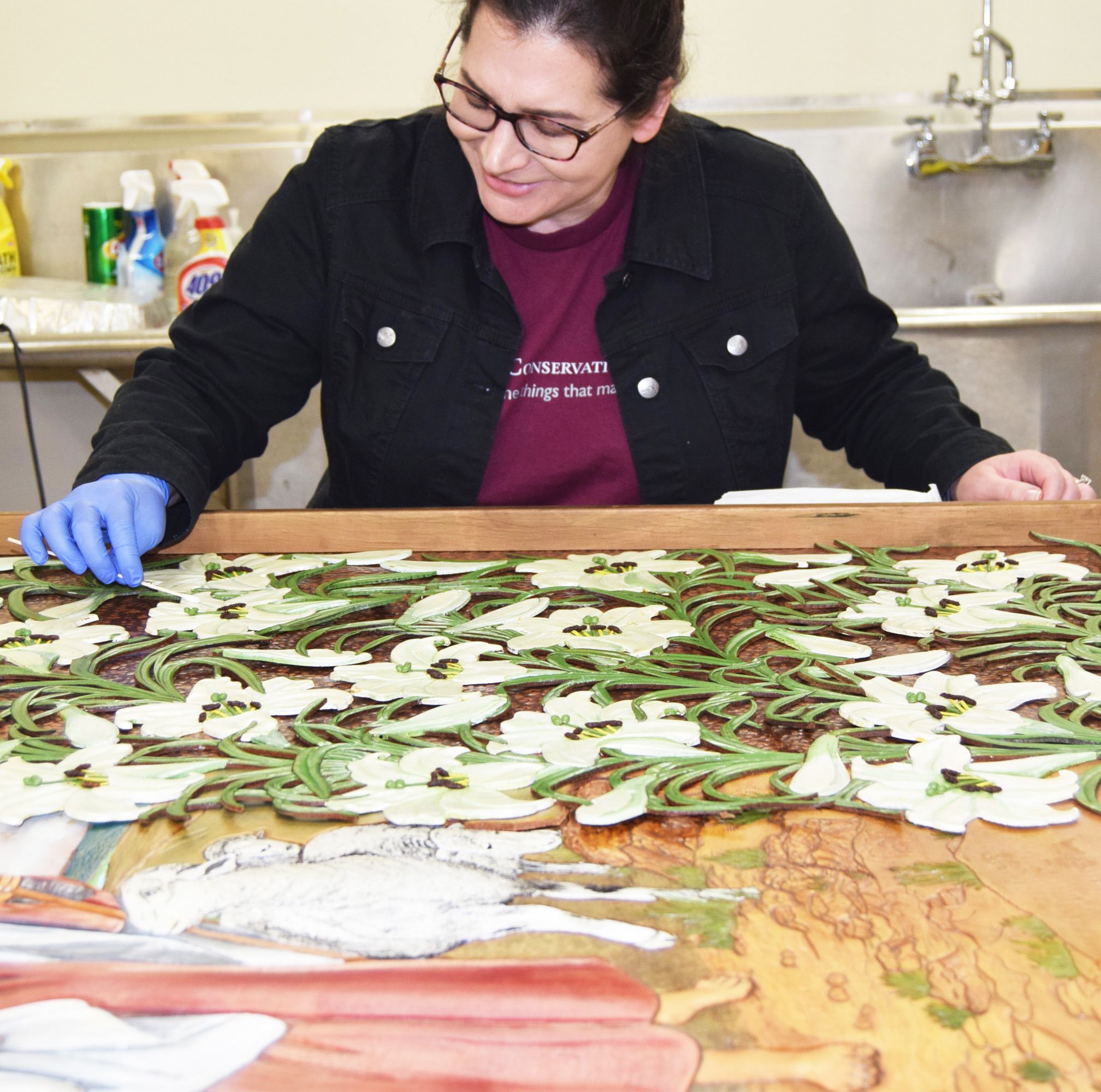 Earlier this week Nell Ann McBroom, the Executive Director of the Tales 'N' Trails Museum in Nocona, gave us an update on the project to restore two large-scale leather art pieces by famed local artist and leatherworker Dell Motley. Texas Historical Foundation provided a grant to the North Texas Society for History and Culture for this work earlier this year.
Dell Motley was an innovative leather artist who began her career in Gainesville in 1949. She moved to Nocona in 1953 to work as a designer for the Justin Leather Goods Company where she designed thousands of purses, belts, and wallets. Nocona has long been considered the leather goods manufacturing center of the Southwest, and Motley chose the Tales 'N' Trails Museum as the home for her artwork shortly before her death in 1996. Altogether she completed four large leather murals and was in the process of finishing a fifth at the time of her death. All are now part of the museum's permanent collection.
McBroom said that the two pieces had "been in storage for 15-20 years waiting on the right person to come along for the project." That person was Victoria Lupia, art conservator and owner of Legacy Conservation in Oklahoma City. Lupia began working on the pieces earlier this year. Currently, the leather is unattached from the plywood base and ready to re-mount onto an aluminum surface, which will aid in its preservation and make the pieces much lighter in weight. They will then be re-framed for display.
McBroom expects the restoration of both pieces to be completed by the end of 2023. If you are in Nocona after that time, be sure to stop by the Tales 'N' Trails Museum to view Motley's work and to learn all about the leather manufacturing industry that was so important to this region of Texas.
Enjoy the following photos, courtesy of the Tales 'N' Trails Museum: