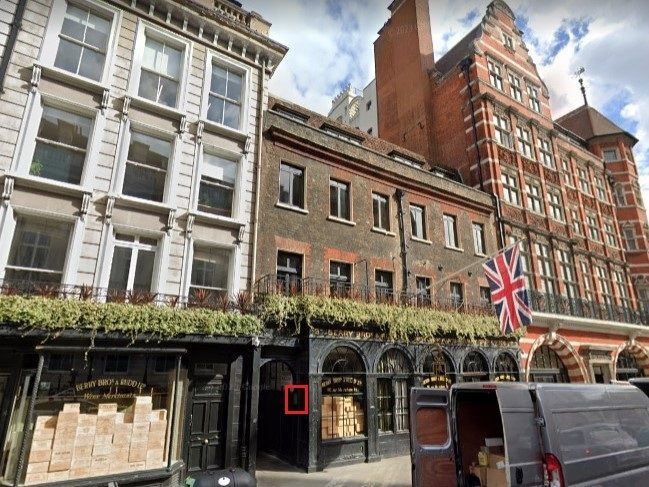 My kids joke that I can find a connection to Texas history anywhere I go. During a recent trip to London, my wandering took me to No. 4 St. James Street just a few blocks from the more well-known St. James Palace. That is where I found the site of the former Legation of the Republic of Texas, which was located in a part of the building that is accessed through a narrow alley known as Pickering Place. In 1986 the Anglo-Texas Society erected a plaque at the entrance to the alley that reads "Texas Legation to the Court of St. James 1842-1845."
The building is owned by Berry Brothers & Rudd, a prominent and historic London wine merchant that has provided wine, ports, and whiskeys to the Royal Family from this location since the reign of George III (1760-1820). The business served as landlord to an assortment of organizations that rented out the Georgian Rooms. Notably, former tenants included a brothel and gambling den, Napoleon when he was in exile, and the Embassy of the Republic of Texas from 1836-1845 at the directive of President Sam Houston.
A legation is a diplomatic minister that is of lower rank than an ambassador or an embassy. After Texas declared its independence in 1836, its borders were exposed and vulnerable to both the United States and Mexico. President Houston was eager to gain international support and recognition, and he established legations in Washington DC, Paris, and London. Houston sent Secretary of State Dr. Ashbel Smith to serve as the Texas Legation representative to England.
The Court of St James is the official royal court for the Sovereign of the United Kingdom, and at this time it was also the official residence of the monarchy. The Court formally receives all ambassadors accredited to the United Kingdom even today. For Smith, the appointment was short lived. Despite the Crown's support of Texas's independence, Texas decided to join the United States in December of 1845.
In their haste to return to Texas, the delegation left an outstanding bill of £160 with their landlord. In 1986, Texas's sesquicentennial year, a delegation of 26 Texans dressed in Texas frontier garb and buckskin jackets visited Berry Brothers & Rudd to settle the bill. They paid the overdue £160 in Republic of Texas bank notes. Berry Brothers & Rudd honored the relationship by launching a new brand of whiskey named "Tex Leg Bourbon Whiskey."
Documents pertaining to the legation, mostly diplomatic dispatches, are in the Texas State Library.
Shannon Callewart, Texas Historical Foundation Board Member