| Page unit | Size (v or h) | 1x (Rates per insertion) | Rates per insertion (contracted - 4X) |
| --- | --- | --- | --- |
| Full page | 7-1/2" x 9-1/2" | $450.00 | $450.00 $382.50 |
| 2/3 page | 5" x 9-1/2" | $350.00 | $297.50 |
| 1/2 page | 7-1/2" x 5" | $250.00 | $212.50 |
| 1/3 page | 4-1/2" x 5" | $200.00 | $170.00 |
| 1/4 page | 3-3/4" x 5" | $150.00 | $127.50 |
| 1/6 page | 2-1/4" x 5" | $100.00 | $ 85.00 |
| | | | |
Color Rates
Four-color: Add $600 to space rate.
Black + one color: Add $200 per color; $250 for PMS match.
Black + two colors: Add $200 per color; $250 for PMS match.
Premium Positioning
Back cover: $2,000. All others add 25 percent. Premium positioning option based upon availability.
Advertising Specifications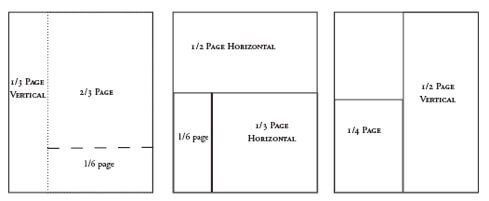 Materials
Press-quality PDF (PDF/X preset recommended), Adobe Photoshop, InDesign, or
Illustrator. If you are unsure about the PDF quality, please send original files.
Ad size should be 100%.
Bleeds: Accepted at no additional cost. Ad size for bleeds must be 9 ix 11-1/2".
Binding method: Saddle stitch
Deadlines
Please call or email the Foundation office (see information below) regarding space reservation and artwork deadlines.
Credit & Payment
A payment of 50 percent of cost of ad is required in advance unless credit is established or special arrangements have been made. Credit cards are accepted. An advertiser who does not complete a contract will be billed at the earned frequency level.
Contact THF at (512) 453-2154 or admin@texashistoricalfoundation.org