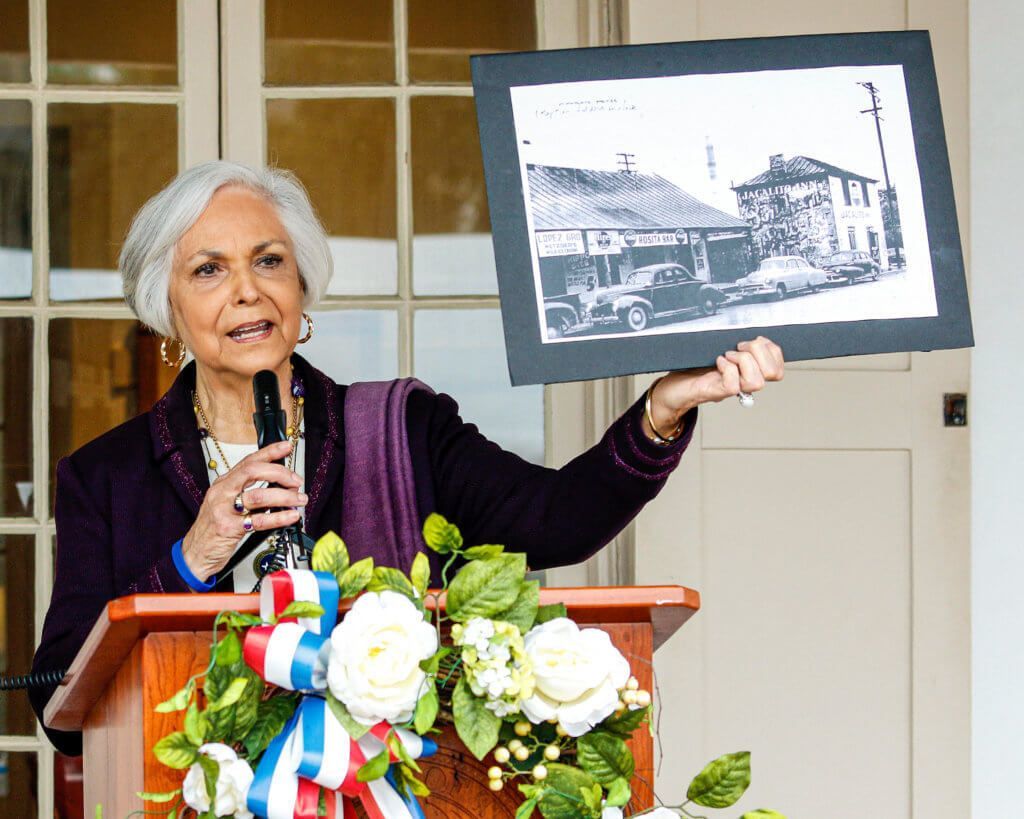 Navarro's descendant recalls how her great-great-great grandfather influenced her journey.
By Sylvia Navarro Tillotson
Texas Historical Foundation – Vice President 
Are you familiar with or do you know the name of Texas patriot José Antonio Navarro? As far back as I can remember, I knew my family was related to this famous Texas hero. I am a direct descendant, the great-great-great granddaughter of José Antonio Navarro, born and raised in San Antonio, just like many generations of Navarro Texans. 
It was late in my life when I learned forgotten historical facts about Navarro's many contributions to the formation of the Texas. He was one of the state's most prominent and influential political figures of the 19th-century. The statesman was a merchant, landowner, educator, commissioner, legislator, councilman, state senator, and leader of the Tejano community (meaning a native-born Texan of Hispanic descent). 
The Navarro patriarch Angel, José Antonio's father, emigrated from Corsica, Italy, as an indentured servant. He became a prominent citizen, businessman, community leader, sheriff, judge, and mayor of San Antonio. The Texas city of Corsicana is named for him. 
Navarro's son Angel lll, my great-great grandfather, attended Harvard Law School, which was unprecedented for the time in Texas. He was the school's first Hispanic-Texan graduate in 1850. 
Navarro and his uncle Ruiz were the only native-born signers of the Texas Declaration of Independence. Navarro also helped draft the constitution that created the Republic of Texas (1836) and the 1845 constitution of the Republic of Texas, annexing the state to the United States. When the latter constitution was being drafted, there was a statement in the document that would have disenfranchised many and denied the voting rights of anyone who was not "white." Navarro gave an eloquent speech on the floor of the Capitol and his persuasiveness nearly singlehandedly influenced the vote to remove the words "for whites only" from the charter. 
Schools, streets, monuments, and a Texas county all bear the Navarro name, but few people, including his descendants, know the history behind the admiration of the people that honored the statesman's patriotism. 
Navarro's famous quote "I will never forsake Texas and her cause. I am her son" is emblazoned on the walls of the Bob Bullock Texas State History Museum in Austin. After Navarro was arrested by Mexican officials on the disastrous Santa Fe expedition in 1841, he was taken to Mexico City along with others and imprisoned and sentenced to death as a traitor to Mexico. Santa Anna was enraged when Navarro's sentence was commuted to life imprisonment and sent him to the worst dungeon prison in Mexico (known as A Living Death)—one from which no prisoner escaped or returned alive. Navarro spent four years in the dungeon never giving into despair. He was offered his freedom if he would renounce his allegiance to Texas, but he never relented. His imprisonment became a high-profile political issue, and the new Mexican president considered setting him free. However, in the meantime, Navarro escaped with the help of friends and returned home to crowds hailing him a great Texas hero. 
Growing up, I recall there was no emphasis in school or at home on Navarro's distinguished past. In later years, learning about his lifetime, his passionate quest for liberty and how he helped shape the course of Texas history made a lasting impact on me and my family.   
Researching my lineage came late in life, after raising a family of five sons, living away from San Antonio, and pursuing various projects of interest, all of which kept me fully occupied. However, in 2005 I received a phone call from a stranger, a cousin from San Antonio I had never met, which changed my life for the next 15 years. 
Even though, I lived in Dallas, I established a Friend's group in San Antonio to help raise funds for the renewal of the Navarro house museum (now a national historical landmark). Along the way, and for years following, numerous historical educational projects were also initiated. 
Navarro's ancestral home is a compound comprised of three historic adobe structures located in the heart of downtown San Antonio, previously known in Navarro's era as Laredito. Life in Laredito bustled with food vendors, children playing, and traders conducting their daily business. Homes in the area were called jacals and were made of wood, mud, or plaster with thatched roofs of straw, grass, or reeds. A fine home such as Navarro's would have been built from adobe, sandstone, or limestone. The street itself, Laredo, led a long trail to the city of Laredo, Mexico. 
Navarro's home is the only historical site in San Antonio dedicated to interpreting Mexican history and the heritage of Texas—and the only state museum to present history through the lens of a Latino patriot. The historic site serves as a center for historical, cultural, educational, and environmental programs. 
My interest in Lone Star history led me to join the Texas Historical Foundation (THF), a statewide preservation organization. On a THF tour, the board visited the Texas State Cemetery near the State Capitol in Austin. I was amazed to find such a beautiful burial site, which seemed to me to be much like a park to enjoy and have picnics.  
I immediately wondered why Navarro was not buried there. An idea was born that took me down the path of another major important project. In 2015, a beautiful cenotaph with a bronze likeness of Navarro was unveiled and dedicated during an official celebration at the state cemetery. Descendants from all across Texas attended, and many city and state officials participated in the ceremony and unveiling. 
More than 300 people attended the event on the coldest day of the year, February 27, Navarro's 220th birthday anniversary. 
The Navarro cenotaph was the first Tejano monument to have a place of honor at the state cemetery. It will stand in perpetuity as a memorial for school children, youth, and the public to learn of his important contributions, many of which are engraved on the monument. 
September 15-October 15 is Hispanic Heritage Month.  This is a time to celebrate, contemplate, and appreciate the importance of the state's history that is steeped in Hispanic culture. There is certainly much to learn about Navarro and the Hispanic/Mexican/Latino contributions in Texas history during the turbulent period of wars and revolution in Texas. 
It is also a time to say "thank you" for the interaction and support of historians, descendants, friends, public officials, and historical organizations such as THF that provide opportunities for learning, understanding, and appreciating our treasured—and shared—Texas history and legacies.