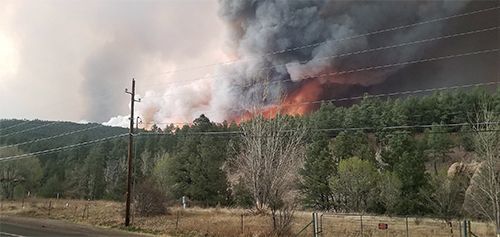 As the earth warms and climate change affects the planet in ways humankind is still discovering, natural disasters have become increasingly frequent and unpredictable. Devastating hurricanes, destructive droughts, and raging wildfires threaten lives and landscapes, creating what some have called a new normal. While saving people and homes is always a priority in these situations, precious historical and cultural resources are often also in harm's way.
It is fitting then, as the state celebrates Texas Archeology Month in October, to note a curious—and often unconsidered—intersection of these all-too-frequent natural disasters and the preservation of cultural resources. 
Cristin Embree, a Texas archeologist, has worked emergency assignments in many parts of the country that have brought her face-to-face with raging wildfires, as she and other trained professionals race against time. 
Here, in her own words, Embree describes what that job entails: 
For the past 10 years, I have been employed for the U. S. Forest Service as an archeologist and continue to work on call as an interagency archeologist on wildfires that burn millions of acres of public and private lands every year. The fire itself, the indirect effects from tree falls, erosion, and the after effects of fire-suppression techniques all pose threats to archeological sites. 

My job is to work within the incident command structure to make recommendations and implement plans for the protection of threatened cultural resources. I served more than 1,000 hours in this role last year on some of the biggest fires in the country. I was on the ground for the Calf Canyon megafire in northern New Mexico for nearly two months earlier this year. I left right from there to head to the very destructive Mosquito Fire [as of October 7, 2022, it had burned nearly 77,000 acres and was still only 95 percent contained] in the Tahoe and Eldorado National forests in California, a region I'm quite familiar with, having served there previously. It's exhausting but very fulfilling work.
While these assignments have given Embree the opportunity to experience some of the nation's extraordinary back country close up, she says the job can be nearly nonstop and often requires quick decision making. Because of the unpredictable nature of fires, there is not always time to study detailed maps or consult a geographic information system to determine the location of threatened cultural resources. That's when archeologists are forced to rely on their training and instincts to search for clues like vegetation or a suspicious depression that can offer crucial hints to the location of important sites.  
In addition to identifying cultural resource locations and alerting fire-going personnel to those concerns, emergency archeologists may also be called on to consult with local, state, and federal authorities or tribal contacts, develop strategies to avoid impacting important sites, when possible, and conduct  site mitigation work afterwards. 
While fires are destructive, the U. S. Forest Service points out that they are not always bad for archeology. The upside? Fires can also uncover artifacts that have been covered up for hundreds of years by trees and dense undergrowth.